One Year Anniversary of the Holbrook rescue! UPDATE 6/4/2017
MRR has had large intakes before but nothing quite prepared us for 6/4/16, the fateful day when MRR volunteers went to Holbrook NY and bore witness to the series of events which led to MRR having over 600 animals in custody at one point! There were some desperate times over the past year as the Holbrook crew taxed our foster homes with medical and social needs but overall, the vast majority of Holbrook rats turned out to be friendly and loving.
Now, a year later, we have fewer than 40 Holbrook animals still in custody. We are so happy and thankful for the out pouring of support. With our Holbrook babies reaching a year old and Holbrook parents bcoming seniors, we hope you will considering opening your home and hearts to help the last of the Holbrook rats find homes.
Adopting: In accordance with our customary novel/classic pairing policy as well as due to the sheer volume of rats currently in foster homes, we do require that each novel rat go home with at least one classic rat. In this case, classic is defined as standard ear/standard coat pink eyed whites (PEWs), while novel Holbrook rats include dumbos, hairless, capped, hooded, and other varieties.
In addition, we require that the rats taken in from the Holbrook case MUST go home in pairs or more. These rats have been together for a year or longer. We don't want to separate them from the silblings and friends they have been bonded to for so long.
Finally, there will be a 50% discount on adoption fees for all intact and neutered rats from the Holbrook case. Regular adoption fees apply for all other rats, including all spayed females; see How to Adopt for details.
1) All novel rats must go home with at least one classic rat.
2) All rats must go home with at least one friend.
3) The adoption fees are 50% off for all intact and neutered rats from Holbrook.
Thank you for your understanding and your desire to help!
You can see the remaining Holbrook rats listed below.
Teetering on 600 Rats !!! HOLBROOK UPDATE 7/2/16
It's been a month since our first call for help with the Holbrook rats. Thanks to the incredible efforts of many individuals and rescues, approximately 1000 rats were rescued; no rats were left behind! MRR transported over 400 rats, a number of which were transferred to other rescues and shelters in New England who lent a helping hand. Once the dust had settled, Mainely Rat Rescue ended up with 233 rats and another 363 babies have been born in our care over the past month. For those of you counting that is 596 total!! These rats are remarkably friendly and comfortable being handled and are becoming braver and friendlier each day
Over 500 rats looking for homes!!
We were contacted because a veteran was being evicted due to complaints.  The rats were not in a home…they were in a commercial space….therefore, eviction proceedings proceed more quickly.  MRR headed to Holbrook NY to rescue as many rats as we could.  This was a monumental effort.  We were already rather full from another case in Maine but we did the best we can to take as many rats as possible.  The rats were living all together, so many of the females are pregnant, so even more ratties will be born soon.  Team reports all are very handleable! Some are patterned, many/most are pew, ALL need love!!
WE CANNOT DO THIS ALONE, PLEASE HELP.
If you would like to foster or adopt, please go to the contact us page on our website & choose "general inquiry". Your message will be forwarded to the appropriate person. If you do not hear soon, please feel free to resend….we have been swamped & are doing our very best to keep up but some emails may be slipping through the cracks!
If you would like to donate to help us with this situation please click the "donate" button. We are a 501c3 charitable rescue organization so donations are deductible! If making a donation via PayPal, please make a quick note stating it is for the Holbrook rats.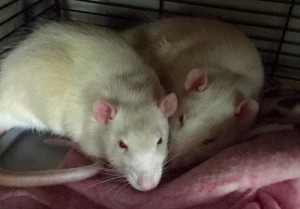 Rats in custody:
Maine
Massachusetts