Holbrook Rats
Over 500 rats looking for homes!!
We were contacted because a veteran was being evicted due to complaints.  The rats were not in a home…they were in a commercial space….therefore, eviction proceedings proceed more quickly.  MRR headed to Holbrook NY to rescue as many rats as we could.  This was a monumental effort.  We were already rather full from another case in Maine but we did the best we can to take as many rats as possible.  The rats were living all together, so many of the females are pregnant, so even more ratties will be born soon.  Team reports all are very handleable! Some are patterned, many/most are pew, ALL need love!!
Teetering on 600 Rats !!! HOLBROOK UPDATE 7/2/16
It's been a month since our first call for help with the Holbrook rats. Thanks to the incredible efforts of many individuals and rescues, approximately 1000 rats were rescued; no rats were left behind! MRR transported over 400 rats, a number of which were transferred to other rescues and shelters in New England who lent a helping hand. Once the dust had settled, Mainely Rat Rescue ended up with 233 rats and another 363 babies have been born in our care over the past month. For those of you counting that is 596 total!! These rats are remarkably friendly and comfortable being handled and are becoming braver and friendlier each day
WE CANNOT DO THIS ALONE, PLEASE HELP.
If you would like to foster or adopt, please go to the contact us page on our website & choose "general inquiry". Your message will be forwarded to the appropriate person. If you do not hear soon, please feel free to resend….we have been swamped & are doing our very best to keep up but some emails may be slipping through the cracks!
If you would like to donate to help us with this situation please click the "donate" button. We are a 501c3 charitable rescue organization so donations are deductible! If making a donation via PayPal, please make a quick note stating it is for the Holbrook rats.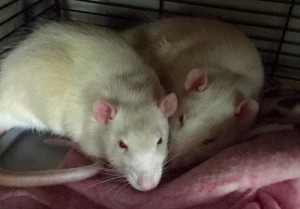 In accordance with our customary novel/classic pairing policy as well as due to the sheer volume of rats currently in foster homes, we do require that each novel rat go home with at least one classic rat. In this case, classic is defined as standard ear/standard coat pink eyed whites (PEWs), while novel Holbrook rats include dumbos, hairless, capped, hooded, and other varieties.
In addition, we require that the rats taken in from the Holbrook case MUST go home in pairs or more. These rats have been through a major life change recently: many were living freely in family groups or colonies, and they were picked up and combined randomly as the volunteers worked, possibly separating them from lifelong friends. They have also gone through hours of transport times and are still being constantly filtered and divided between foster homes. In order to let the rats have some consistency in their new lives, everyone needs to stay with at least one friend, sibling, or cagemate.
Finally, there will be a 50% discount on adoption fees for all intact and neutered rats from the Holbrook case. Regular adoption fees apply for all other rats, including all spayed females; see http://mainelyratrescue.org/rattieblog2/?page_id=15 for details.
To summarize:
1) All novel rats must go home with at least one classic rat.
2) All rats must go home with at least one friend.
3) The adoption fees are 50% off for all intact and neutered rats from Holbrook.
Thank you for your understanding and your desire to help!
Rats in custody:
Connecticut
Gurus Through the Looking Glass
Maine
Caribbean Litter
Gym Leader Misty & Erika's Girls
Old Mother West Wind's Neighborhood
Peanut, Popcorn, & Cracker Jack
Massachusetts
Gym Leader Misty & Erika's Boys
Gym Leader Misty & Erika's Girls
New Hampshire
New Jersey
New York
Rhode Island
Vermont