Yin & Yang came to us on 6/17/23 because their owner no longer had time for them.
Fostered by Anjelica in New Haven, CT.
ADOPTED!
#2023423N, "Yin", Rat, Black and White, , Standard Ears/Standard Coat, Male, DOB: 06/17/2022, Spayed/Neutered?: No
#2023424N, "Yang", Rat, Pink-Eyed-White, , Standard Ears/Rex Coat, Male, DOB: 06/17/2022, Spayed/Neutered?: No
UPDATE 10/17/23:
"Yin and Yang are very sweet, friendly, and active boys. They would do best in a home that can continue to handle them daily.
When Yin (black) and Yang (white) entered foster care, they were immediately very friendly, but they were not used to being handled. While adjusting to their foster home, Yin did bite their foster human within the first two weeks, but has not bitten since.
They always come right to the front of the cage to greet humans and often athetically jump from their hammocks onto the front cage bars to stick their little noses out. So setting up the cage in a way to encourage climbing and jumping is encouraged (ex: lava ledges, hammocks, etc. perhaps instead of some shelves and ramps). They still don't like the action of being picked up, but they don't at all mind being held and make for very good lap rats! Yang especially likes to sit in a lap and be pet to sleep.
Yin is one of the only rats their foster has seen that will take and eat a treat while being held. Both Yin and Yang are pretty food motivated and their foster believes that they could be trained to do some tricks if their adopter wanted to work on any! Their foster has trained them to climb into a small bowl on their own for regular weighing.
Yang is *such* a sweet boy. He's more skittish than Yin (he may have reduced eye sight compared to Yin because Yang is a PEW rat), so slow movements to pick him up are best. But he's bruxxed in his foster's lap and loves being pet. Yang's curly whiskers are very charming and Yin has white fur on his feet that make him look like he's wearing gloves!
Their foster has noticed that Yang is a a bit clumsier than his brother, so they have removed a wooden ladder from their cage and keeps the fleece covers on the DCN ramps to prevent any sprained legs."
UPDATE 6/26/23:
"Yin and Yang are friendly, welcome being pet, and take food from my hand, but are not used to being picked up. I weigh my rats daily so I think they will get used to being handled very soon 🙂
Yin is mostly black with white hands and feet and some white on his belly. I suspect Yang is a rex PEW as he has a couple curly whiskers and his fur is a bit wavy."
Yin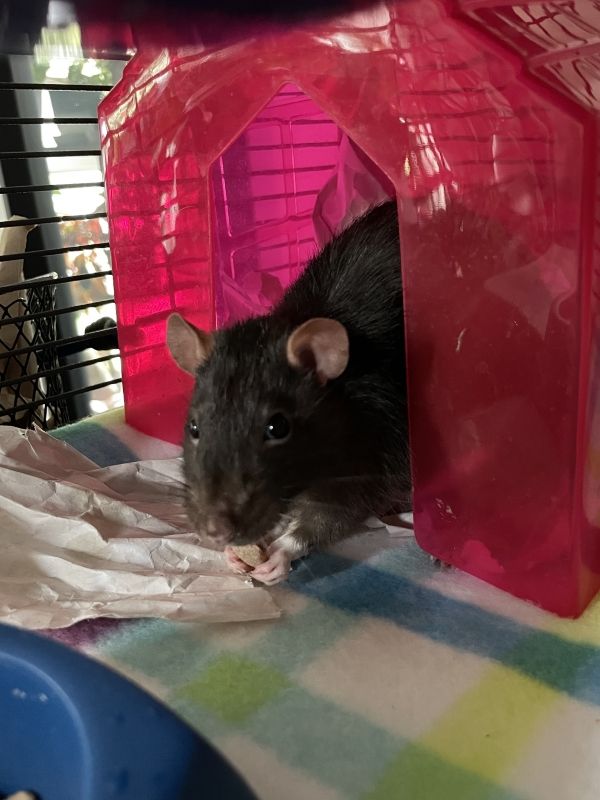 Yang