These girls came to us on 5/26/18 because one of the girls wasn't eating well–but they're all better now!
Fostered by Ruth in Amesbury, MA.
ADOPTED!
#2018370N, "Nari", Guinea Pig, Brown, , American, Female, DOB: 06/18/2017, Spayed/Neutered?: No
#2018369N, "Yuki", Guinea Pig, Brown and White, , American, Female, DOB: 05/26/2016, Spayed/Neutered?: No
UPDATE 6/12/18:
"I would want them to go to an experienced piggie home that will continue to weigh them and feed them properly. They are gems honestly. Wonderful girls. Yuki is more shy/skittish but even then you don't have to chase her around the cage to get her. She runs in her house and I just scoop her up. Nari is very vocal. Love them both."
UPDATE 8/4/18:
"They are just awesome. They have got a little hefty though so I am trying to find a balance as they are still gaining. They went from one extreme to the next! I think more floor time would help them out. They aren't the type that you can cut way down on veggies and expect them to make it up in hay. They came with subpar hay and that must be all they were fed because they were on verge of dying soon due to malnutrition. I do just suggest an experienced home.
They are both super sweet and as far as pigs go aren't too skittish. Nari loves head rubs and will sink right in to the ground. Yuki does too but it takes a little more to convince her at first. Both will come to the bars to see you..but probably really only want food. They do just about all pee in a litter box but aren't as good about poops. I've had lots of pigs and anyone will be lucky to have them."
Nari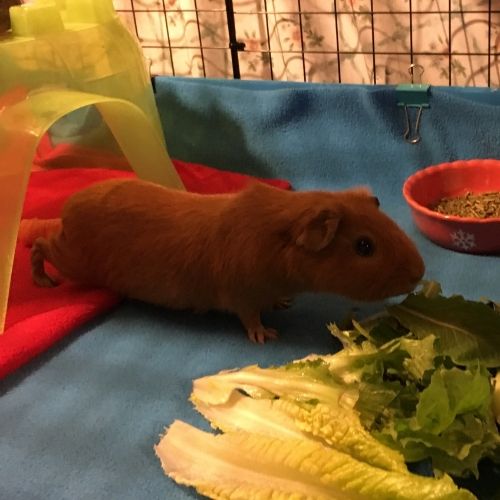 Yuki