These three sweet ladies were found abandoned in an apartment when the landlord when in to clean. They were crammed into a tiny hamster cage. He admittedly knew nothing about rats, but he is a kind, caring man and allowed them out to play on his bed because he was concerned about their lack of space. He tried to re-home one of the girls as a single and they all got sick, so the girl was returned. He insists that these three MUST stay together as they are tightly bonded. We agree! We believe Maggie may be the mother of Trinket and Nonie.
These girls are reportedly all very friendly and sweet. Nonie grabs things too close to the cage, so they should not go to a home that has children too young to understand that fingers do not go through cage bars. They all like to play outside of the cage and they love bananas!
These girls came into custody on 01/02/2016.
Fostered by Michaela of Canton, MA
ADOPTED!
#20#16005N, "Maggie", Rat, Blue, Berkshire, Standard Ears/Standard Coat, Female, DOB: 09/30/2013, Spayed/Neutered?: No
#2016006N, "Trinket", Rat, Beige, Self, Standard Ears/Standard Coat, Female, DOB: 09/30/2014, Spayed/Neutered?: No
#2016007N, "Nonie", Rat, Blue, Berkshire, Standard Ears/Standard Coat, Female, DOB: 09/30/2014, Spayed/Neutered?: No
UPDATE 1/25/16:  Just wanted to shoot a quick update on the girls. Nonie is a climber. She loves to get all around the cage. Maggie is doing SO much better than when I first picked her up! She is like a completely different rat–so much more energetic now! When I first got her she barely picked up her head when I would open the cage. Now she is the first to run out of her box to see what goodies you may have for her. Trinket is doing well and seems to have no boundaries when it comes to stepping all over my face and sticking her nose in my ear when she is on my shoulder. They are all a bit hand shy (Trinket especially does not like being picked up) but once you have them out of their cage on a shoulder they are fine. I love taking them out when watching TV/reading. They all just huddle on one shoulder and fall asleep. My hair, always a mess has become a literal rats nest.
UPDATE 1/10/16: I do think their final adoptive home should have a more "senior-friendly" cage to account for Maggie's mobility issues – she seems to have a lot of trouble climbing up to the upper shelf of her cage, and actually fell off the ramp when she tried to get up (fortunately it was only a short drop). They're also smart girls, and immediately got the hang of pooping in the litter box (still working on peeing, though!).
UPDATE 1/9/16:  First update from foster family
These three sweet girls were found abandoned in an Albany apartment and are settling nicely into their new home (a vast improvement over the tiny hamster cage they were found living in). They're all bonded (and have no qualms about stepping on top or burrowing under each other!), and are great companions for snuggling while reading or watching TV.
Maggie (light gray) is, I believe, the matriarch of the group; I'm estimating she's older than the others (maybe around 2-2.5 years) and is much more content to lie down in your lap and brux than explore. The other girls are definitely younger – maybe around 1-1.5? They're certainly much more spry and agile, but still seem pretty relaxed and ready to take a nap.
Nonie (dark gray, white belly) is a big, sweet girl. She can be a bit grabby around food and sometimes mixes up fingers for snacks, but she always comes running when she hears you approaching. She seems to love the hammock, and also likes to ride around on my shoulder.
Trinket (cream) is your typical girl; she's the smallest of the three, but makes up for it with her energy and willingness to explore. She likes to burrow in my sweatshirt through my sleeve and emerge on my shoulder; after some running around, she plops down to nap with the other two.
Maggie
Trinket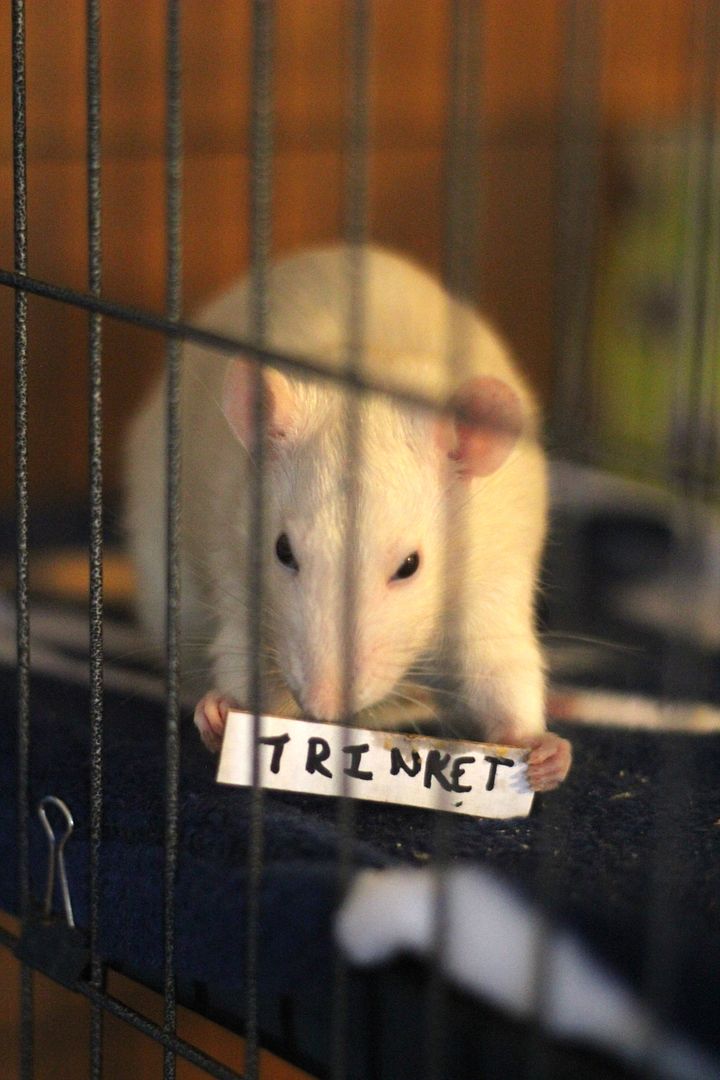 Nonie