100+ rats in one house..!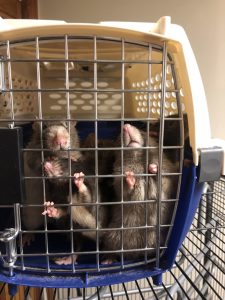 These rats came to us between 7/1-7/12/2020 from a home in Connecticut. MRR volunteers visited the home several times over the course of almost two weeks. A majority of the rats had been living free in the home, having been let loose or chewed out of their cages. These rats love to chew, so we will not accept plastic-based cages for anyone from this group, even if it has worked for other rats in the past.
Most of these rats will need a little TLC to get used to life in a cage and with humans, but they all are naturally sweet. Despite being scared, some of the rats were caught with our volunteers' bare hands, and without a single bite!
Many females are on maternity watch and we expect several litters of babies in addition to the 100+ young adults available.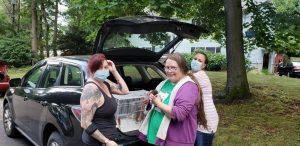 Thank you to all of our lovely volunteers who helped catch these rats!
More rats will be posted all the time, so check back or send us a message if you don't see any near you.
Rhode Island
Ashaway, RI – The Pepper Pack
Portsmouth, RI – Squid & Inky
Connecticut
Bristol, CT –The Firefly Girls

Columbia, CT – Cora & Julia
Danbury, CT – The Flower Girls
Gales Ferry, CT – The Sunshine Babies, The Cloudy Kids
West Haven, CT – The Mario Boys, Spangler, Dana, & Tiny, Venkman & Janine
Windham, CT – Lark & her Little Birds, The Ghostbusters Boys
Massachusetts
Carver, MA – The Disaster Litter
Cheshire, MA – The Star Trek TNG Litter
Dedham, MA – Raven & Pumpkin, These Babies are Nuts!
Feeding Hills, MA – The Super Mario Bros Litter
Gloucester, MA – The Veggie Boys

Holbrook, MA – The Science Boys
Leominster, MA – The Cat in the Hat Litter, The Labyrinth Litter
Natick, MA – The Cloudy Kids
Sandwich, MA – Midnight & Winter
Stoughton, MA – Archie
Sutton, MA – The Pasta Family
New Hampshire
Windham, NH – The Poetry Girls, Mystic's Connecticut Crew

Maine
Harrison, ME – The D-Bois
Orono, ME – The Avatar Boys
Sabattus, ME – Wilbur & Charlie