These two brothers were part of an oops litter. The owner was told that the rat she got was a male so she put her in with her male. She ended up having four babies! She could not afford to keep all of the rats so she asked if we could take four of them. They will be neutered soon and placed in a new foster home. We would like these two boys to stay together!
These boys came into custody on 11/25/2015.
Fostered by Phyllis in Hollis, ME.
ADOPTED!
#2015358N, "Blue", Rat, Agouti, Hooded, Standard Ears/Standard Coat, Male, DOB: 06/15/2015, Spayed/Neutered?: Yes 12/01/2015
#2015359N, "Charlie", Rat, Black, Hooded, Standard Ears/Standard Coat, Male, DOB: 06/15/2015, Spayed/Neutered?: Yes 12/01/2015
UPDATE 2/15/16:  Not sure why these little guys have not been snapped up!  They are great rats for beginner families because they are so gentle and sweet.  And for experienced rattie families who might want some uncomplicated, friendly, loving rats, here you go!!
They love their bathroom play time.  They will zoom all around while I sit on the floor either reading or checking my mail.  But very quickly they will come running over to make me their focus.  They love to climb all over me, get into my hood, sit on my head, crawl up my sleeves, check my ears, earrings, glasses.  Then I start tickling them and they are hysterical!  They will get all silly and start galloping around the bathroom (if you have never seen a rat gallop, you are missing something wonderful!).  Then they come back to start all over.  Too funny.
If you have the winter blahs, adopt these two cuties.  I guarantee they will make you forget that it is such a nasty time of year.
Somebody please adopt them!  I am getting way too attached!!!!!!!
UPDATE 1/20/16:  These are some amazingly loving rat boys! Anyone wanting a pair of rats that will be a true joy to own should consider them.  They are fun, funny, sweet and just plain adorable!  They are also pretty neat in their cage. I am betting they can be litter trained fairly easily.I have not tried, but they seem to always go in the same corner. They LOVE their hammock, but if I enter the room they are in up come their heads and they are ready to play.  I would definitely consider them beginer type rats. they are very easy to handle.
UPDATE 1/10/16:  "Blue and Charlie are doing great. Their fav thing is to climb up my legs till I can't stand the sharp little nails, so I pick them up and put them on my shoulder. They check my ears, glasses, earring, and hair. I always wear hoodies in the winter, so they then snuggle down into the hood and will stay there forever. Never pee or poop in there. Such great rats."
UPDATE 12/30/15:  "The boys are doing fantastic. I think these guys are the silliest rats I have ever had. They are so affectionate and funny. They are very inquisitive. They love to be all over me during play time. They brux quite a bit while checking me out. Charlie is the more brave rat. Blue takes his cues from his brother. We have little games we play and they never fail to make me laugh."
UPDATE 12/16/15:  "Just a quick update. I am writing this as Charlie is sitting on my lap, and Blue is sitting on my feet. They really are some very loving little rats. Their gentleness is apparent every time I handle them. They are starting to spend a lot of time in the hammock. But all I have to do is walk near the cage and their little faces pop out, in hopes that I am going to either take them out for playtime or at the very least give them a Yogie!!
Right now I have two rats, one on each shoulder checking out my hair, my glasses, and my earrings! These young men certainly are going to make somebody very very happy!"
UPDATE 12/4/15:  "Even though they have not been here for very long, it is very easy to see what kind of a personality these guys have! In a word, I would say amazing describes them. They are extraordinarily sweet, very very easy to handle, and very gentle. They do like to run around when they are let out of the cage for playtime. But they are very inquisitive, so they like to check back with you off and on. They love attention. As soon as I go anywhere near the cage, they are right at the front looking for me to interact with them.
So I would say that anyone who is looking for beginner type rats, would be making an absolutely wonderful choice by taking these two. They would be easily handled by respectful children too.
If you want to give yourself a great holiday present, adopt Charlie and Blue!! I can only imagine that as time goes on and they become more comfortable here, they will be even more wonderful. Stay tuned for more updates on them."
UPDATE 12/3/15:  "Picked up the boys this afternoon. OMG, they are so adorable!
I am watching them explore every inch of the cage, apparently there will be no settling in period for these two. They are right at home already! They really are darling."
Charlie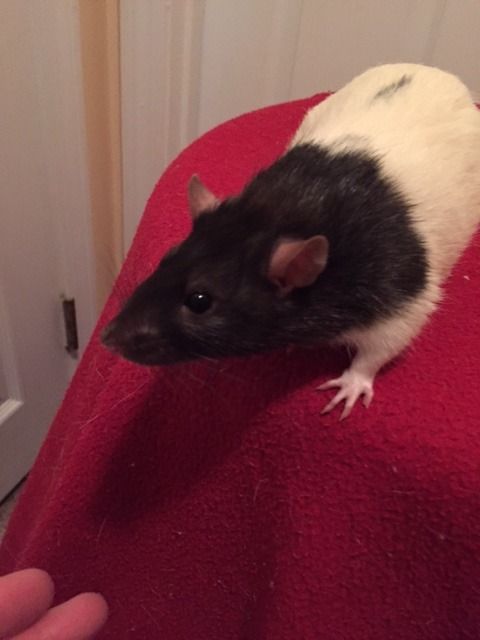 Blue