These boys came to us on 7/18/23 due to a change in the owner's home status.
Fostered by Jill in Chepachet, RI.
ADOPTED!
#2023488N, "Alfredo", Rat, Silver, , Dumbo Ears/Rex Coat, Male, DOB: 12/09/2022, Spayed/Neutered?: Yes 9/18/23
#2023489N, "Cheese", Rat, Silver, , Dumbo Ears/Standard Coat, Male, DOB: 12/09/2022, Spayed/Neutered?: Yes 9/18/23
Special Needs: Respiratory Issues
UPDATE 11/21/23:
"Alfredo is a gorgeous gray and white rex who loves his food (and it shows). He does not like to be pulled from his cage, but once he ventures out on his own he loves sitting on his foster family's laps for scratches. He is adventurous, and will attempt to climb everything, but he doesn't know how big he is and needs to be rescued or stopped more often than not. Alfredo loves adults and children, and will gently nibble fingers if you have traces of food on them. If you shake a bag of treats he will come bounding towards you from wherever he ran off to. He will hang out on shoulders and get into whatever mischief he can find. Alfredo is bonded with Cheese and you will find them cuddled up in their hammock every morning. He also enjoys stealing Cheeses' food when he'd not looking.
Cheese is the sweetest, most gentle rat. Cheese will wake up immediately when someone comes into the room, and he will chew on his bars until he is let out. He loves to cuddle on his foster family's laps, get scratches, and when his foster mom is working at her desk, he will take naps under a blanket on her legs. All Cheese wants is to be out with his people. He is jokingly called "Spider Rat" because there is nowhere he can't climb or jump to. He will walk on a keyboard if you are typing, and try to steal snacks from your hands as you eat them. The only thing Cheese does not approve of is when he is put back in his cage. Cheese has had bronchitis and will need to be monitored for future respiratory illnesses. He is bonded with Alfredo."
UPDATE 8/25/23:
"Alfredo is very curious and will stand at the door to come out when it's playtime. He is okay being picked up (splays his legs a little) but does not protest or make a sound. He enjoys being held and scratched all over. He is curious and likes exploring once out of his cage, but explores cautiously. He is extremely food motivated and will usually choose a tasty snack over exploring if given the choice.
Cheese is extremely curious. If he hears you in the room he will almost always wake up no matter the time of day. He climbs the door to beg to come out. Cheese loves exploring and climbing and jumping on everything. He is small and very agile and can and will jump off and on anything to further his explorations. He loves being held and scratched and cuddled. He is not food motivated and will always choose coming out of his cage over getting a snack. He nibbles on fingers and toes because he is so curious."
Alfredo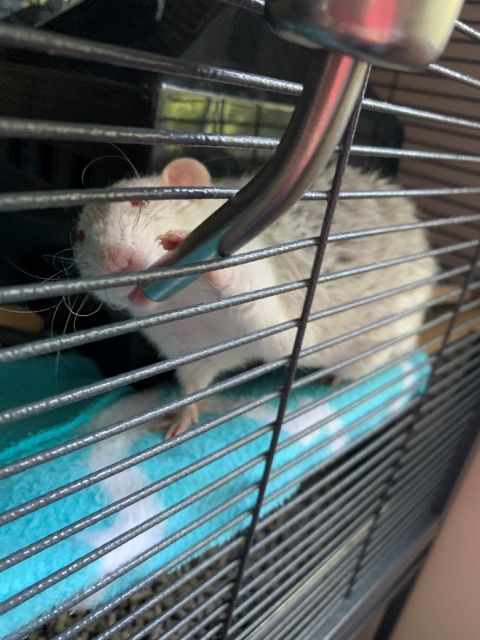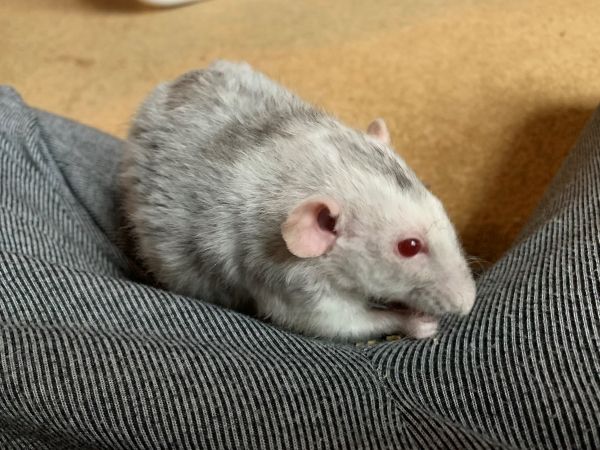 Cheese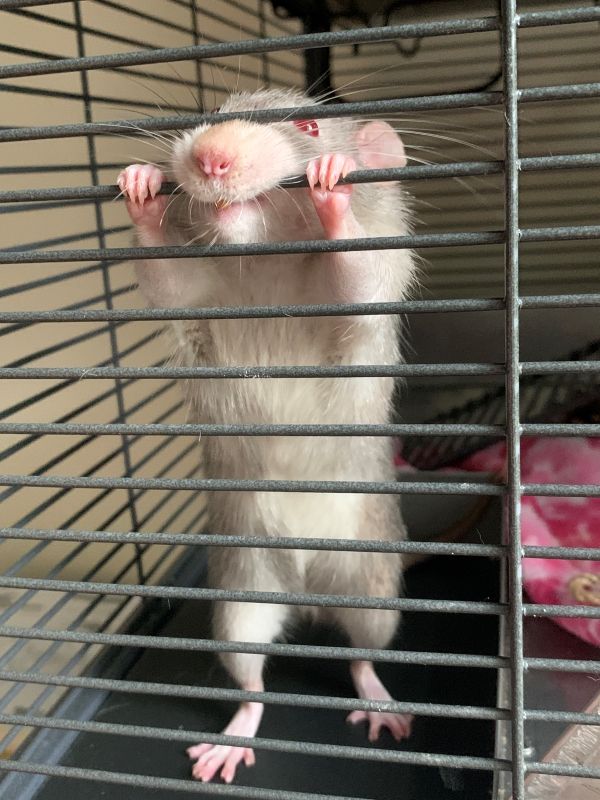 Alfredo & Cheese