These girls came to us on 6/15/19 because their owner had too many rats!
Fostered by Nicole in Mendon, MA.
ADOPTED!
#2019307N, "Cookie", Rat, White, Standard Ears/Standard Coat, Female, DOB: 12/01/2018, Spayed/Neutered?: No
#2019308N, "Fudge Sundae", Rat, White, Standard Ears/Standard Coat, Female, DOB: 12/01/2018, Spayed/Neutered?: No
#2019309N, "Donut", Rat, White, Standard Ears/Standard Coat, Female, DOB: 12/01/2018, Spayed/Neutered?: No
UPDATE 7/10/19:
"Donut is still pretty people-shy, she doesn't like too much handling but isn't aggressive when handled.
Cookie is a bit timid, but easy to handle, and once she warms up to you, she's the biggest cuddler.
Fudge Sundae is very outgoing, always running right to you when you open the cage (if she's not there already looking out at you). She's the most playful of the bunch and loves people. Fudge is always the first to try and escape the free roam boundaries.
Donut and Cookie both love snuggling together in hammocks, sometimes joined by Fudge Sundae. Fudge prefers sleeping on the cage levels, sometimes in a hide, sometimes just flopped wherever. She sleeps with her eyes open sometimes, it worries me until I get close to the cage and she wakes right up. Fudge takes treats from me no problem, Cookie usually will after watching Fudge do it first, and Donut has only done it once. All three girls are HUGE chewers, they go through toys very fast.
They are not yet litter box trained, and seem to poop anywhere but the box. All three are very curious and love "people watching."
Fudge Sundae was aggressive with my personal rat, so I'd recommend adoption to a no rat home or by someone with experience introducing rats together. None have been people aggressive."
UPDATE 12/2/19:
"Cookie LOVES her wheel, she's typically spotted either running away on it, or relaxing in a hammock post-workout. She doesn't always love getting picked up, but still gives cuddles when she's in the mood. She enjoys bonding pouches and free roam time.
Fudge Sundae is a huge personality in a little body, she's not shy in the slightest. She's the first to test the boundaries, including those I set up for free roam time. She's most likely to be spotted hanging onto the cage bars and people watching. She'll hop right into my hands when I open up the cage. I think she's a great candidate for trick training and I'm attempting to work on some basics with her.
Donut is still very shy. I've made a lot of progress with her from when she first came to me and she'll let me pet her in exchange for a treat, but ultimately she prefers not to be touched. She does do well in bonding pouches. She's the heavyweight of the cage and can frequently be spotted stealing treats from Cookie and Fudge.
They go through chew toys faster than any other rat I've cared for. They'll all run to the cage doors in hopes of a treat when they hear you close by. All three girls love their hammocks and I think their best match will be someone with a love for cage decorating, they're always at their happiest when the cage layout has just been changed."
Cookie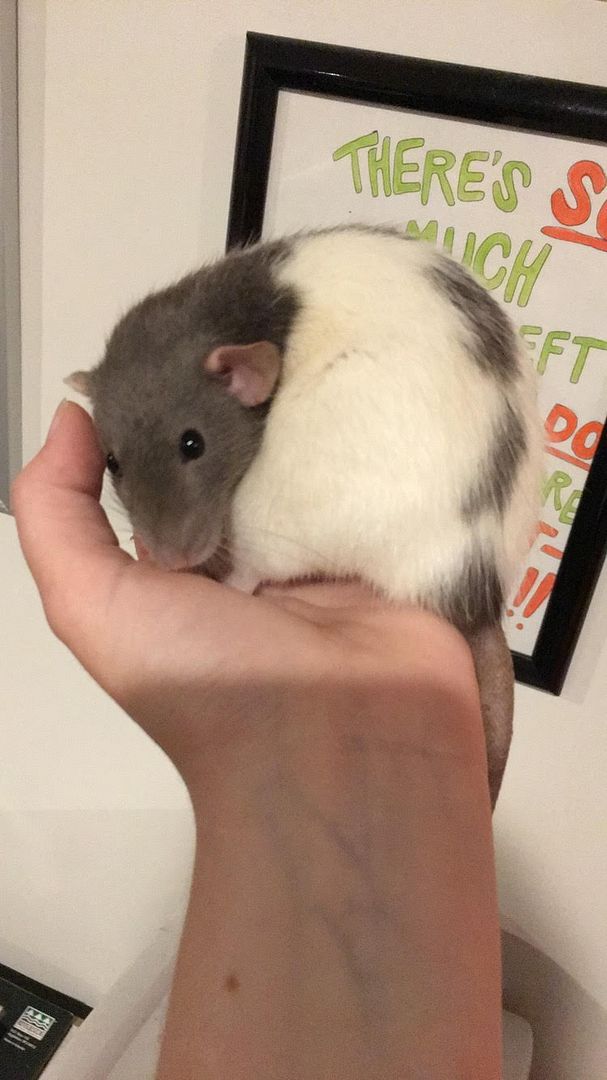 Fudge Sundae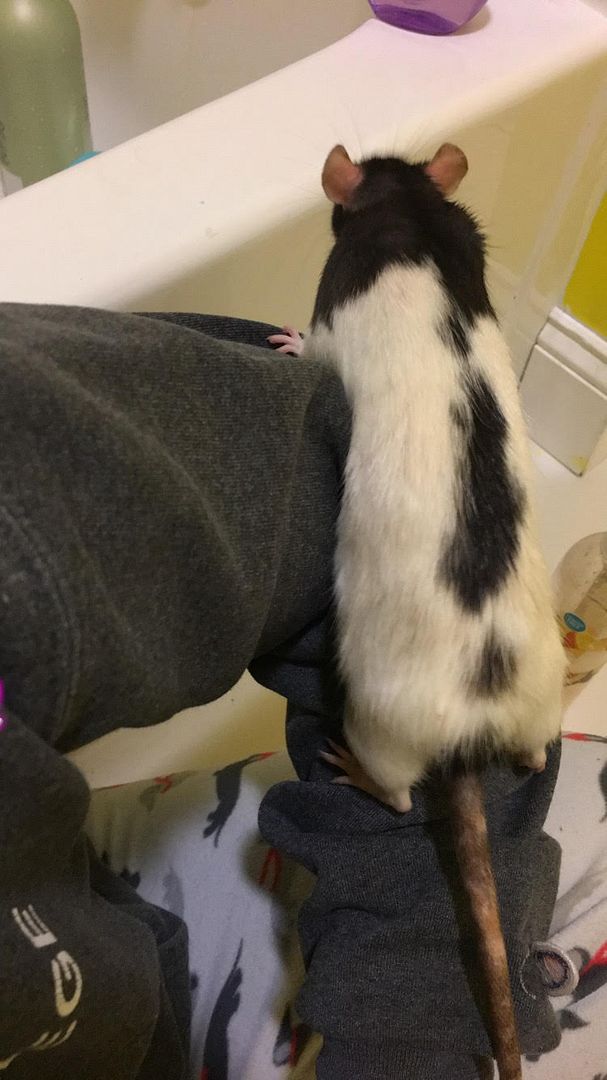 Donut