These boys came to us on 5/20/18 after they were rescued from a pet store where they had been improperly handled. The boys are friendly but shy, and do not bite. They are nervous about the act of being picked up given their past.
Fostered by Patterson in Dedham, MA.
ADOPTED:
#2018328N, "Pancake", Rat, Black and White, , Standard Ears/Standard Coat, Male, DOB: 02/20/2018, Spayed/Neutered?: No
#2018326N, "Wish", Rat, Pink-Eyed-White, , Dumbo Ears/Standard Coat, Male, DOB: 05/24/2017, Spayed/Neutered?: No
#2018327N, "Raven", Rat, Black, , Standard Ears/Standard Coat, Male, DOB: 02/20/2018, Spayed/Neutered?: No
#2018329N, "Gambian", Rat, Brown, , Standard Ears/Standard Coat, Male, DOB: 12/20/2017, Spayed/Neutered?: No
UPDATE 8/6/18:
"Gambian/Raven and Pancake/Wish need to be adopted as pairs. All 4 boys are incredibly gentle and sweet guys! They were mishandled at the pet store they came from, so all are unsure of being picked up. They would do best in an experienced home with older children since Gambian is special needs, Wish is nervous being picked up, and Pancake is shy.
Raven is very outgoing and friendly. He rushes to greet me at the door or beg to come out. If you sit in front of the cage, he climbs right out in to your lap. He loves to climb and explore. He is not a snuggly guy because he has too many places to go and things to check out.
Gambian is blind with a head tilt that causes him to lose his balance sometimes. Gambian is very cautious at first. Once he gets use to the lay out, smells, and sounds, he is a curious guy. He likes to explore and Raven serves as his guide rat. It is important Gambian have all 4 feet on the ground at all times, otherwise he starts to lose his balance and will roll over. This includes when he is being picked up, so he must be held with two hands, every close to the body. He needs a cage with covered ramps and lots of hammocks in case he falls.
Pancake is the most shy of the boys. It has taken him a about 2 months to get comfortable. Initially he was too nervous to take treats from me or explore during free range time. Now that he is comfortable he comes out for treats and enjoys exploring during free range time. Once he has checked everything out, he likes to sit under a blanket and relax. I usually cover my lap with a blanket and he will snuggle under there and let me pet him once he is done exploring. He spooks easy and is very good at hiding in his cage when he is scared.
Wish is the most snugly of the boys. Wish and Pancake are always cuddled together. He will smoosh down and close his eyes while you pet him. He hates being picked up, he squeaks and will try to fly out of your hands. During free range, he will explore some, but he prefers to cuddle with Pancake in my lap and get pets.
I absolutely adore all of them! They are so gentle and such wonderful guys."
Wish

Raven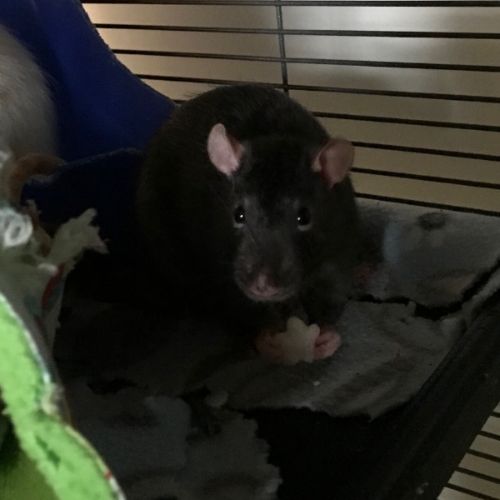 Pancake

Gambian