These boys came to us on 5/5/19 because they were the primary responsibility of a child who wasn't taking good enough care of them.
Fostered by Emily in New York, NY.
ADOPTED!
#2019213N, "Reggie", Rat, Black, Standard Ears/Standard Coat, Male, DOB: 08/05/2018, Spayed/Neutered?: No
#2019214N, "Archie", Rat, Beige, Hooded, Standard Ears/Standard Coat, Male, DOB: 08/05/2018, Spayed/Neutered?: No
UPDATE 5/13/19
"These plump, sweet boys are personable and smart. They both love to explore (though Archie will usually make the first move out of his comfort zone while Reggie may hold back to observe first) and will love you and play with you once you earn their trust. The boys play fight with each other sometimes, but it hasn't seemed to escalate to anything that puts either in actual harm. They're energetic, but more slow paced than female rats I've had in the past. They love a good nap for sure, though in free range time they love to get nosy and explore.
The boys love hammocks, and climbing in general (both like to climb on top of the water bottle in their cage–it may not be cozy, but I think they just like succeeding at getting up there). They like cuddling in loose clothing/robes I wear when I play with them. I've only had them for a week so I haven't yet warmed them up to shoulder rides. They eat from a food bowl, and they've also eaten from my hands. They give little kisses if you put your face close to them in a gentle manner. Their previous owner mentioned them liking a hidey house/tunnel that came along with them, but I haven't seen them use it yet. I'm sure they're still getting acclimated to their new environment and will show more likes and dislikes as time goes on!
I'm starting to train them to use a litter box, though at present they are not fully trained. They get along very well together, snuggling and sleeping together in their hammock and exploring outside the cage during free range time. Reggie sometimes nips out of fear, but is generally affectionate and not malicious. Archie can become spooked during free range time at being picked up, and squeal and hide under furniture when it's time to go back in the cage. I think this can likely be attributed to only being around me for a week so far."
Reggie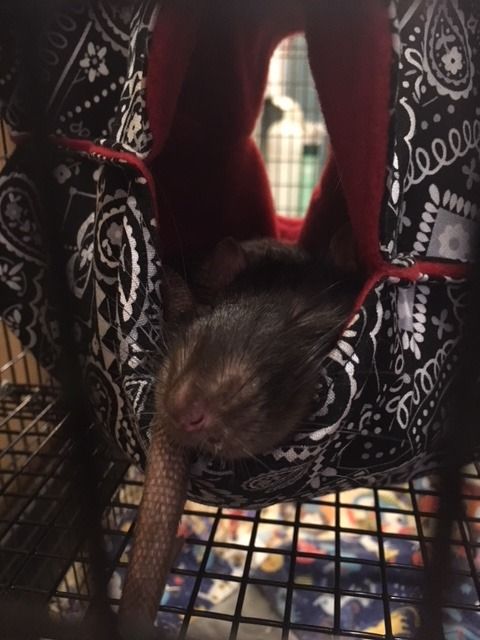 Archie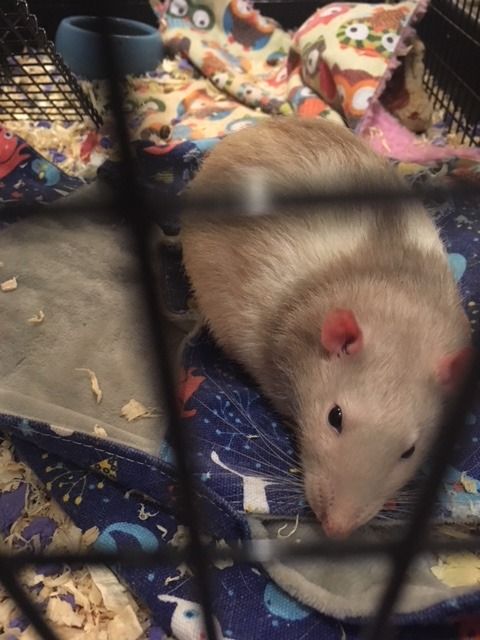 Together