These girls came to us on 6/4/20 because their owner moved and didn't have time for them.
Fostered by Rebecca in Brockton, MA.
#2020304N, "Plato", Rat, Brown, , Dumbo Ears/Standard Coat, Female, DOB: 05/24/2019, Spayed/Neutered?: No
#2020305N, "Dunwall", Rat, Brown, , Dumbo Ears/Standard Coat, Female, DOB: 05/24/2019, Spayed/Neutered?: No
UPDATE 7/19/20:
"Both girls are settling in well, I have been slowly introducing them to my resident girl and they are behaving beautifully with no signs of aggression or anything like that. Obviously this will vary between individual rats, but I think it's a good sign for if an adopter has rats of their own.
I have been nipped a few times, by both of them, but it was "my fault" for not reading their body language better and none of them broke skin or seemed to be from aggression. All the nips happened while they were in the small temporary cage I was using during the introduction process, and it doesn't help that said cage only opens from the top either. The girls seem much more comfortable in the larger permanent cage and especially when they're in the open space of a playpen, I think they'd do great in a household that can free-range them for several hours a day.
Neither girl likes being picked up or held but will tolerate it…sometimes after a bit of a chase. In particular Plato is easier to get in hand but resists being held once she's there, and Dunwall is less willing to be picked up but once in my arms is calmer about the experience. Both of them will occasionally climb up on me by their own decision, but so far only when outside the cage.
In general they only allow me to pet them if they're busy eating something really delicious, and only for a second or two, but that's already better than their response a week ago. Hopefully I can keep giving them positive experiences and they'll become even more confident!"
UPDATE 8/9/20:
"In general, both girls have settled in great! They are boisterous and energetic, as can be expected of young females, but will happily curl in a pile with my resident girl for naptime. Dunwall loves running on a wheel, and Plato is getting better about letting me handle her when she'd rather be off exploring.
Happily I have not been nipped since the first week when we were getting familiar with each other, and they have proven to be sweet, curious girls when allowed to interact at their own pace.
A less positive note is that one of them has taken some exploratory nibbles on the edge of the plastic cage bottom. I don't think it was a deliberate attempt at escape, but if it becomes a habit then it could become problematic so I am keeping an eye out. Having plenty of things in the cage to explore and play with seems like a factor, since this happened on a night when I removed some chewed-to-scraps hammocks, and didn't replace them until the next day. Hopefully this was a fluke (rats explore with their teeth, after all!) but I wanted to mention it since a lot of people use cages with plastic bottoms."
Plato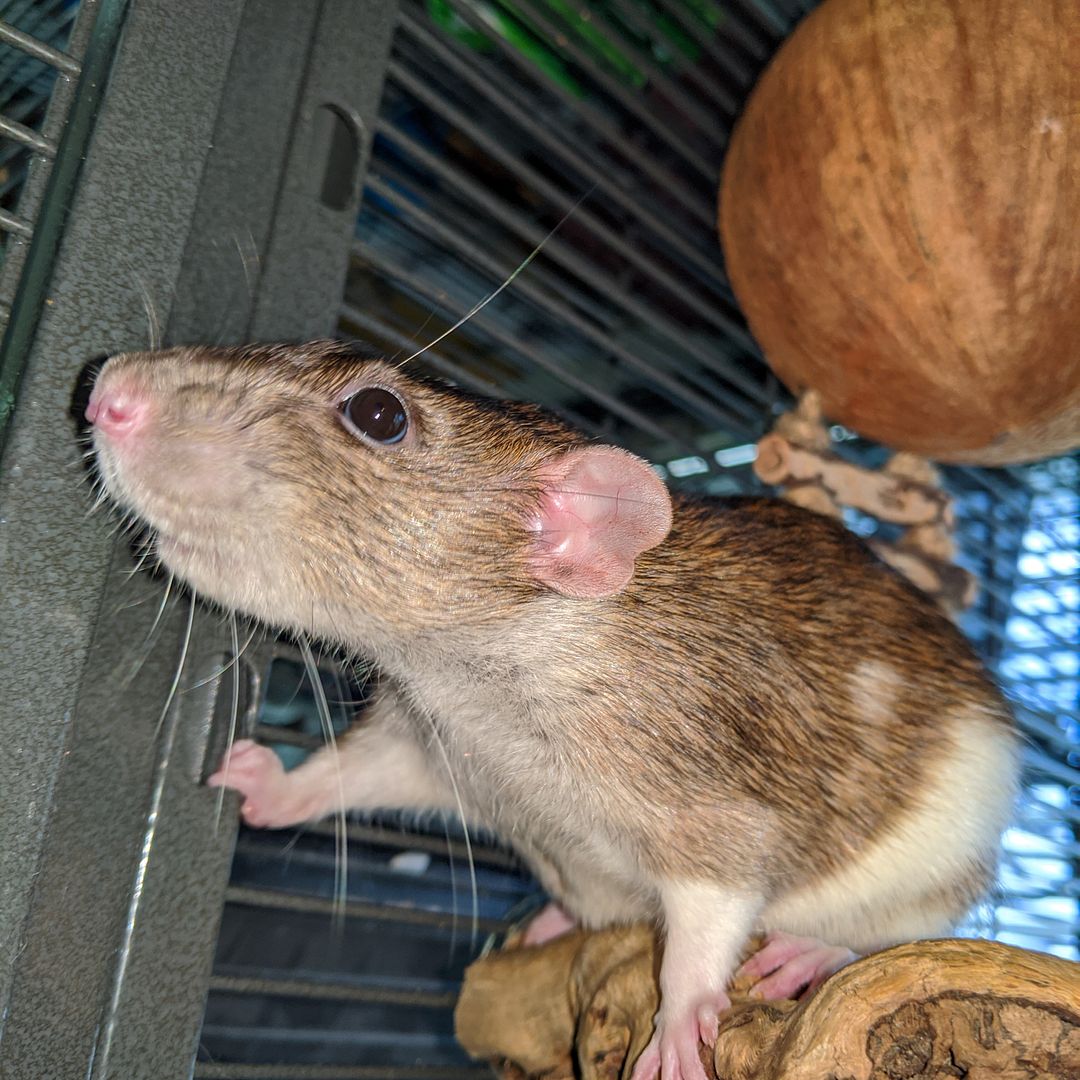 Dunwall