These boys came to us on 9/8/18 after someone rescued them from a Craigslist ad that showed they were not being properly cared-for.
Fostered by Phyllis in Hollis, ME.
RESERVED!
#2018530N, "James", Rat, Agouti, Standard Ears/Standard Coat, Male, DOB: 11/01/2017, Spayed/Neutered?: No
#2018531N, "Kenny", Rat, Pink-Eyed-White, Standard Ears/Standard Coat, Male, DOB: 11/01/2017, Spayed/Neutered?: No
UPDATE 9/8/18:
"They're both very easy to handle and neither mind being picked up. Personality wise, Kenny has been very curious and outgoing while James is more laid back."
UPDATE 10/1/18:
"Are you looking for a pair of goofy bonded brothers who are sweet, friendly, fun, and super cool to hang out with? Then you should meet the inquisitive and gregarious Kenny and James….
Kenny is a PEW with standard ears and a movie star personality. He is very friendly, enjoys attention, and loves to be the life of a party. Cage free time is his favorite time of day and his curiosity sends him on big adventures. Kenny is also a big fan of hoodies and if you're wearing one he'll find the hood and hop in for a ride! Kenny doesn't however like being picked up when he's in his cage but does settle once you have him. Outside of the cage he is much easier to pick up.
James is a handsome partial hooded Agouti with dumbo ears and is such a Prince Charming. He is very friendly, calm, and really enjoys human company. James loves cage free time as much as his brother, venturing with Kenny on a big adventure. He is also happy to check in every now and then to give kisses. James is such a love! James is also learning that shoulder rides are pretty cool. He also isn't a big fan of being picked up but gives in pretty quickly.
Both Kenny and James crave attention and are often at the cage door looking for some love. They've been introduced to many new things, like couch surfing and bananas… and they are crazy for both! They are very smart rats and were easily litter box trained in a month. Kenny and James may be open to meeting new friends since they are both so friendly and easy going. I've introduced them to my elderly boys and they were very gentle and respectful with them.
Kenny and James are two boys learning how to be a great pet rats and loving every minute of it! These guys are AWESOME!!"
UPDATE 10/23/18:
"These guys are AWESOME!!  I cannot see anything about them that is not great. James has a mild respiratory issue but it doesn't slow him down a bit. He is on antibiotics and takes them like a champ. Right now we are having free time in the bathroom. They are having a blast. Running and climbing (I put bags, tunnels and boxes around) but really prefer me for their entertainment.
They are really pretty good with using their litter box. They are some of the neatest rats I have fostered.
Right now they are very disappointed. I am not wearing a hoodie. James keeps looking for the hood!
I would say that these guys would be best for older kids. First time rat owners would be ok too. They are sooooo sweet. They do "taste" toes when we are in playtime. But it never hurts and an eep! stops it. I think they are just being loveable
. They can be challenging to get out of their cage initially. They just need someone who is not hesitant about reaching in and catching them. They never ever make any aggressive moves. They are just squirmy. A younger child with smaller hands might find that difficult. But once out, they are great!
I would hope they end up in their forever home soon. They deserve it. Get yourself an early Holiday present!! Rats!
"
James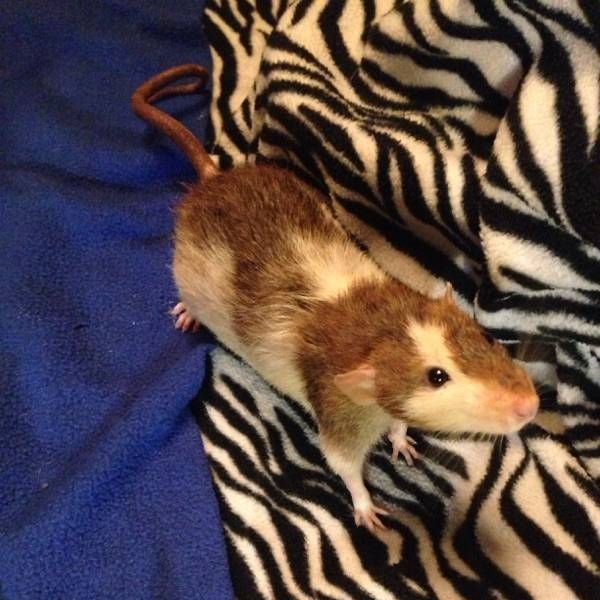 Kenny