Dash came to us on 11/4/18 because his owner was moving and couldn't bring him along. Dash does not like other boys, but loves his ladies!
Bramble originally came to us on 7/22/17. She was adopted in early August, and then came back to us on 12/22/18 after her sister passed and she was alone.
Fostered by Robin in Fitchburg, MA.
#2018733N, "Dash", Rat, Black, Hooded, Standard Ears/Standard Coat, Male, DOB: 05/06/2018, Spayed/Neutered?: Yes 12/5/18
#2017312N, "Bramble", Rat, Black, Berkshire, Standard Ears/Standard Coat, Female, DOB: 03/01/2017, Spayed/Neutered?: No
Special need: Dash's vet believes he may have had a hairline fracture or other injury in the jaw area. He can eat solid foods just fine now, but his adopter will need to keep an eye on his eating habits to make sure his injury doesn't return. Bramble is a senior lady.
UPDATE 12/15/18:
"Dash is a typical young boy that loves to bounce all over the place. He loves to chase and wrestle my hands. He is very curious and loves to sniff a human face and give kisses. He loves his humans, is very easy to hold and took his post op medicine very well. He would be a good rat in a house with children, however he does not like boy rats yet. His neuter was recent so that could change. He has no real ability to eat hard foods right now, and we are not sure if he ever will, but I keep a dish of hard food in his cage and he enjoys playing with it and taking pieces into his igloo to stash as his treasures. I have caught him licking banana chips. When I give him his soft foods, he has a ferocious appetite and will lick the bowl clean of everything I give him, baby foods, cooked pasta, cooked veggies, mashed potato, scrambled eggs, and his "soft" lab block (I soak it in low sodium chicken broth) now and then he is able to eat half of a cheeze-it. I feed him these fresh items twice daily. He is very healthy with good weight and nice soft clean coat. He keeps his cage nice and clean, other than liking to hide is hard food dish under the fleece, he doesn't destroy his set up. He uses the litter box almost exclusively."
UPDATE 1/12/19:
"Bramble is a sweet curious little girl that will come right to you in the cage for pets. She is squirmy when trying to pick her up though and can be a bit slippery, but once you have her and move away from the cage she calms down. Her coat is very soft and clean, and her eyes are nice and bright. She takes treats nicely and does not ever use her teeth. She was easy to introduce to Dash and my own two older ladies and they all get along great. She is quite playful and will run around wildly with her cage mates just like a young rat."
Dash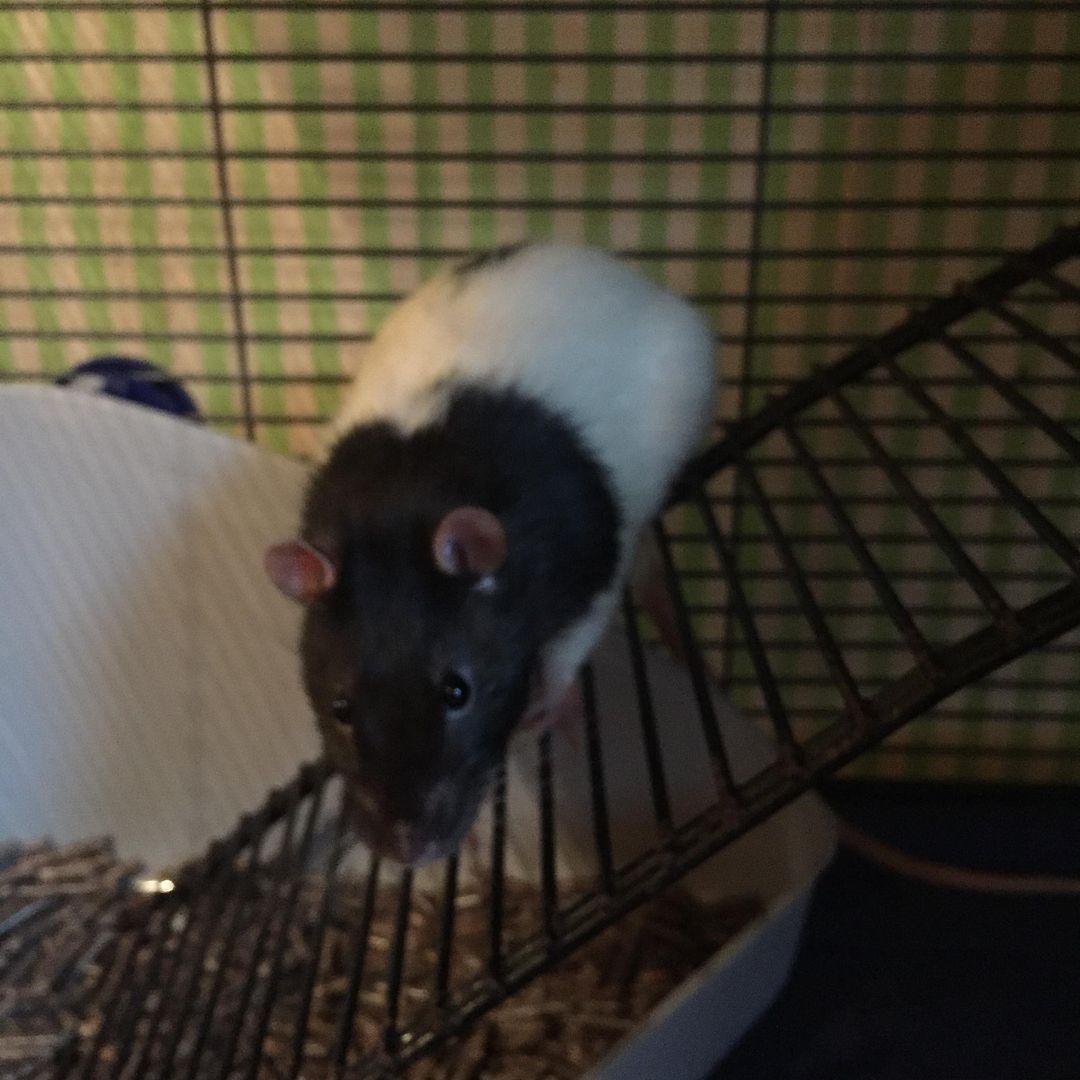 Bramble