News and Announcements
Check back here often for new updates, announcements, and upcoming events!
UPCOMING EVENTS!
Keep an eye out for events after the New Year!
---
FUNDRAISERS
During the holiday season, our friends at the Travelin' Rat have arranged a Giving Tree that helps support a number of rescues, including us! Pick an MRR tree and then select an ornament or star to donate in an amount of your choosing. No donation is too small to help spread some holiday cheer!
When you shop at Small Pet Select for hay use code MERR15 and MRR gets 15% of your purchase!
Shop Amazon Smiles, use this link or sent MRR as your charity and we will receive a donation each time you shop
---
NEWS & UPDATES
MRR Goodies for the Holidays
For the Holidays we have a few MRR themed items you can purchase for the holidays. Remember that sales from these items go to help the rescue!
In the MRR store we have 2018 MRR calendars. They are selling for $10 plus the cost of shipping.

We are also now selling MRR t-shirts and hoodies through teespring. There are two adorable designs and a large portion of sales go to MRR.
September 2017: The MRR Fall Newsletters is now available. You can now subscribe to MRR's mailing list to receive the MRR newsletter and announcements for MRR events.
August 2017: We celebrate 10 years of rescuing this month! We are celebrating with the The Travelin' Rat as their Rescue of the Month for August. Thank you to everyone who bought a t-shirt or donated to MRR, we were able to raise $935.77 with everyone's support.
July 2017: MRR had a very successful Adoption Open House in Rhode Island. Thank you to all fosters and adopters for a wonderful day!
June 2017:
Some of our beloved companion animals, such as rabbit and rats, are still enduring painful experiments to test cosmetics like lipstick, deodorant and cologne in the U.S. and abroad.  Fortunately, humane and safe cosmetics can be made using thousands of existing ingredients, and several non-animal safety tests are already available for new ingredients. These non-animal alternatives are often cheaper, faster, and more relevant to humans, and therefore more reliable predictors of safety.
I am hoping you would be willing to help spread the word about the Humane Cosmetics Act and get your supporters to take action on the bill.
The message is simple:  We are working to end the use of rats and other animals to test cosmetics by supporting the #HumaneCosmeticsAct. Join us: www.humanesociety.org/hca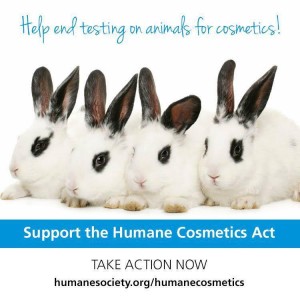 May 2017: MRR had a very successful Adoption Open House in Leominster, MA. 8 adopters attended and brought home a total of 16 rats! Thank you to all fosters and adopters for a wonderful day!
April 3, 2017: In Memory of Beth Auger