Mainely Rat Rescue (MRR) serves small animals whose owners can no longer keep them or who have been abandoned, abused or kept under hoarding conditions. In rare cases, a very senior, emotionally damaged or ill pet moves to MRR Sanctuary for the lifelong love and specialized care they so richly deserve.
If you dream of sharing your home with a rat, guinea pig, or other small companion, but cannot due to space or other considerations, you can still share your heart 
 by sponsoring an animal in need. While our goal is to find adoptive homes for all animals that come to Mainely Rat Rescue, some animals live out their days in a foster home because of medical conditions, behavioral issues, or advanced age. Sponsorship gifts help meet the special needs of MRR Sanctuary pets.
Your sponsorship will help cover the cost of food and medical care for these 'permanent fosters'. By donating to sponsor a sanctuary pet, not only are you helping care for one animal, you're also helping us rescue and care for another.
Sponsors can be named on our website (first name, last initial) or can remain anonymous. Your choice.
To sponsor a sanctuary animal:
Hit the "Donate" Button below,
Enter the amount of your donation.
In the special instructions section, specify that your donation is for the Sanctuary Fund.
If you would like, write a message or dedication to the animal that inspired you to donate (Example – in Memory of Loki).
Please indicate if you prefer to remain anonymous. If you do not specifically request anonymity, we will post your name (first name, last initial) on this page, with our gratitude.
Disclaimer If something were to happen to an animal listed here, any donated funds will be used to care for other sanctuary animals.
---
Meet MRR's Sanctuary Animals
The MRR Sanctuary is part of MRR's animal rescue and education work. MRR Sanctuary animals cannot be adopted. They receive specialized, loving care and medical treatment for the rest of their lives—and costs can add up.
Sponsored by:
Lorien – In memory of Zita, Budd, Peanut and Nibbles.
Anonymous – For the Warrior Princess and all the other sanctuary rats
Jennifer S – In honor of Harris Decker and his beloved pet, Arya
David K – Donated in the name of Pedro Eboli
James C. – In memory of Sirius, Remus, Teddy, Toby, Pansy & Ivy
Ben – In honor of Bruin
Erin T. and Jeremy M.: In memory of Hamilton, half in body, twice in spirit.
Linda L – in memory of my wonderful girl Bella
Andrew R: In memory of Squeaks and Penelope
Tammy C: In loving memory of Zora and Sandy whom I adopted from MRR in April of 2017. Rescued, Fostered, Adopted, and Forever loved. I will miss them always.
Victoria S: In memory of three sweet rattos: Burt Macklin, Gene Parmesan, and Indiana Jones
Amber R: In honor of Shane Riley – Thank you for your compassion & dedication to animals of all kinds.
Kerry L: In memory of Moxie, Meg March, Giggs, Minca, all my past fosters, and other past babes.
Judi M: With prayers for Niko.
Quynhtrang:  In memory of Pikku Pickle, my grumpy old man.
A Gray: In loving memory of  Granny and Dave, Patty-Cake and all my beloved rats who have gone on ahead <3
Robin W: In memory of all the Holbrook rats who have crossed the bridge, and to cherish the lives of those who remain. In remembrance of the anniversary of the Holbrook Rescue. And i

n memory of Darcy, for all the love and warmth she gave to the sanctuary rats in our care, that have passed. We know she is with them and cuddling again.

Chris P: From your recently adopted friends Rose, Lyse and Sabrina
Melissa W: In memory of my vicious dumpster rat, Chowder. Despite all his crazy, I still loved the little monster. I'm glad I could give him a quiet home live out his years in relative peace.
Diane M: In memory of all our adopted babies and our sweet Holbrooks that have blessed our home:)
Anjelica M: From Freya & Flora, two chonky bbys in CT
Lindsay O: In memory of Pearl, the sweetest sanctuary girl
Joyce M: In memory of Molly and Rosie
Kia P: In memory of Luna, Roxy, Rosie, Kyoto, Alice, Micah, Luna, Pumpkin, Mavis, Poe, and Bean
Mika B: From fellow rascals Milk and Oreo
Dori M: In memory of my sweet rattie boy Chester
Niki M: In memory of my mischief of angels playing over Rainbow Bridge. Stay well and happy, sweet Sanctuary babies.
And by the generous donations of: Elle W, Lori D, Steve V, Sara J,

Deborah F-W, Alison H, Lisa W, Emma B, Lydia C, Christopher P, Theresa E

.
In Memory of the Sanctuary over the Rainbow Bridge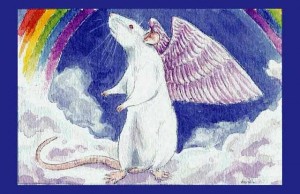 Rat Angel art by Drusilla Kehl of The Illustrated Rat, Walpole, MA. Used with thanks and permission.