All of the animals featured have a special need:

Some have medical issues which require lifetime medication or other type of healthcare.
Others have behavioral issues which necessitate an experienced handler with lots of patience and rat savvy.
Some are physically disabled and need modifications to their home environment.
Despite the added time, care and costs each of these animals needs,  realize that these animals still have lots of love to give and often the reward is even greater. Read about these amazing animals and the special care they require.  Adoption fees are reduced for special needs adoptions.

***
ADOPTION APPLICATION
***
Special/Long Term Needs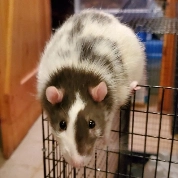 Posted: 06/01/20
Updated: 08/14/20
Fostered in: CT
Intact Males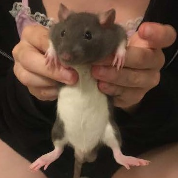 Posted: 08/17/20
Updated: 09/26/20
Fostered in: MA
Intact Males & Females

~*~*~*~*~*~*~*~*~*~*~*~*~*~*~*~*~*~*~*~*~*~*~*~*~*~*~*~*~*~*~*~*~*~*~*~*~*~*~*~*~*~*~*~*~*~*~*~
Adoption Success Story
My name is Jake and I am a guinea pig who found my forever home through Mainely Rat Rescue. My name used to be something else. But when I got a new home, I got a new name. In Britain, "It's Jake" means everything is okay. And that's how everything is for me now. It's all okay. But I was very worried when I had to find a new home. See, I am a special needs animal. In some ways, all animals have special needs. We all need food, a warm home, things to keep us interested and of course, nice humans to share it all with. But I need a little more help with things sometimes. I was born with different front legs than other guinea pigs. My legs are short little stumps that never finished growing before I was born. But I never had anything different, so it's all good to me. Some humans looking for a companion don't want to put the extra time into an animal like me, or don't want us because we look different. That's sad, because we have just as much love to give as anyone else. I still like to play. I like visiting with the other animals living in my home. I love going outdoors. Eating is always good, and snuggling in the arms of my human is just wonderful.

I am grateful to my human for all the extra care she gives me to make me happy. She has done little things like lowering my water bottle and food bowl so I can feed myself, helps me keep clean by giving me a bath every other day, and puts extra soft bedding in my cage so my stumps stay safe. I know it is extra work for her, but I am happy for all she does and I have to love her just a little bit more. Whatever challenges come my way, I know I have a nice human to count on. But I still worry about the other special needs animals who don't have a home yet. We just want a chance to be loved like all companion animals do. I know we're not for everyone. But if you are thinking of a new companion, the right one might have special needs. Please think about us too when the time comes to make more room in your heart for someone special. I promise the rewards will be very special too.

Thank you for listening, Jake
~*~*~*~*~*~*~*~*~*~*~*~*~*~*~*~*~*~*~*~*~*~*~*~*~*~*~*~*~*~*~*~*~*~*~*~*~*~*~*~*~*~*~*~*~*~*~*~
Adoption Success Story
Claude came to MRR with a curled front leg, a URI, and three cagemates who bullied him. He was separated from other rats to help his recovery and was nursed back to health, but there was nothing we could do about the likely-congenital defect of his leg. Claude could move around slowly, but could not run or climb ramps, so he needed a very special adopter and some new, more understanding cagemates.

We couldn't imagine a better match for Claude than his new momma, who reported to us "I love Claude so much, deformed leg or not, he is perfection. He is my absolute sunshine and me, my boyfriend, and Claudie's 6 rattie brothers all can't imagine a day without him". He has plenty of new friends, human and rat, and is even practicing walking up covered ramps to help improve his mobility!