These two sweet young piggy brothers had to be surrendered when someone in the family developed allergies. They were handled and loved by children in their home so would do well going to a family.
Fostered by Michaela in Worcester, MA.  
ADOPTED!
#2015171N, "Ben", Guinea Pig, Agouti and White, American, Male, DOB: 09/09/2014, Spayed/Neutered?: No
#2015172N, "Jerry", Guinea Pig, Agouti and White, American, Male, DOB: 09/09/2014, Spayed/Neutered?: No
UPDATE 7/6/15: "When I first received Ben and Jerry I was worried for two reasons: they look so much alike and they were terrified of me. I was worried I wouldn't ever be able to tell them apart and that they hated people. But luckily I was wrong! Aside from slight physical differences (Ben has a light brown streak near his bum while Jerry does not), they are both very different and have huge personalities. Whoever adopts them will be very fortunate! They still both do not like being picked up or handled within their cage but once taken out and set up in a safe area (the bed or the floor) they love attention. Ben is clearly the more dominant of the two, as he is the first to head for fresh food or new territory. But while I haven't seen them fight, they are both very vocal and can both be pushy. They are both little piggies and have loved everything I've given them to eat. They aren't picky at all. Once they're out of their cage they enjoy head scratches the most. Neither has bitten anyone although I always warn people not to stick their hands in their faces. They are very curious and will give exploratory nibbles. These boys are not for someone who doesn't intend to take them out of their cage and play with them because they LOVE exploring. They seem shy and timid in their cage but once out of it they are super fun and cuddly and very interactive.
Ben – has a light brown smudge on his backside. He is the first to the food, first to try new things, and first to explore a new area.
Jerry – no brown, a wider white collar. Don't let him fool you – he may let Ben try things out first but he is not a pushover!"
UPDATE 6/24/15:  "Ben and Jerry are easy to tell apart once you get to know them. It's hard to tell which is more dominant since they are both very vocal. Ben is a bit more social and tends to head for any food or treats first. Jerry is more cautious. Neither likes to be handled from within the cage but once you get them settled on the floor or the bed they are eager to cuddle. They both love their ears and heads scratched. They don't particularly care to be picked up but once settled they will sit still on your lap and just chill. They love exploring so you have to keep an eye on them when they are out, and they're both super fast. Neither have bitten anyone while in foster care."
The boys together.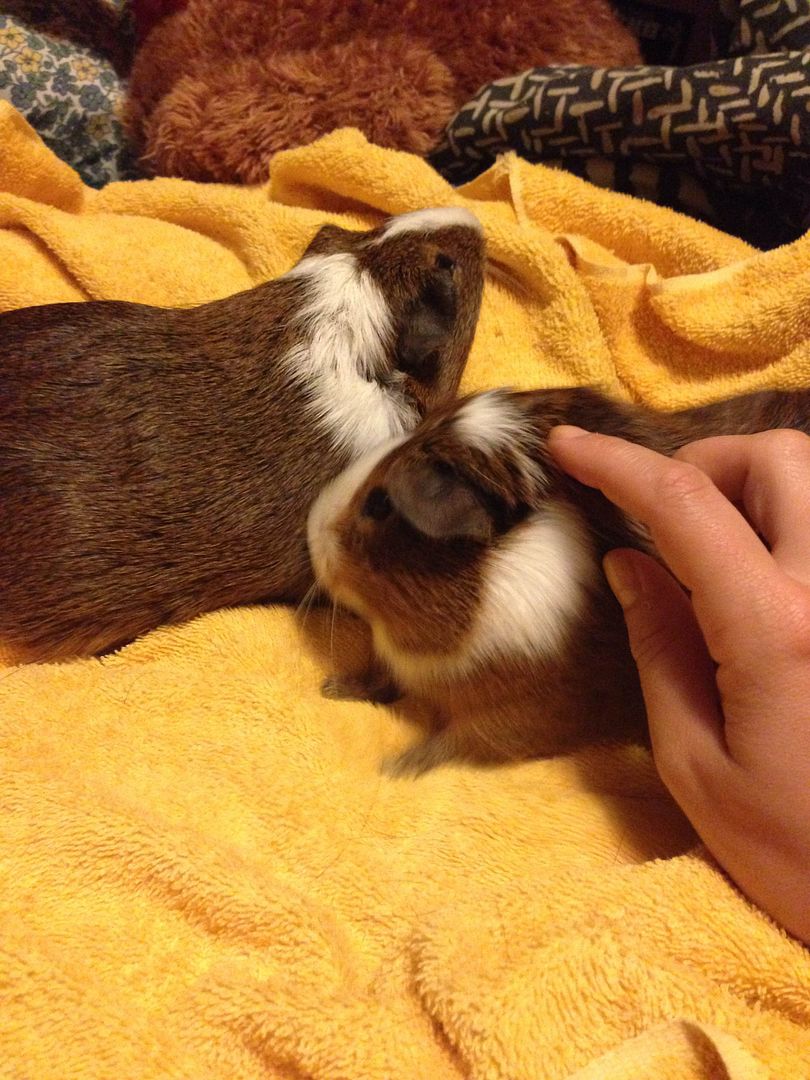 Ben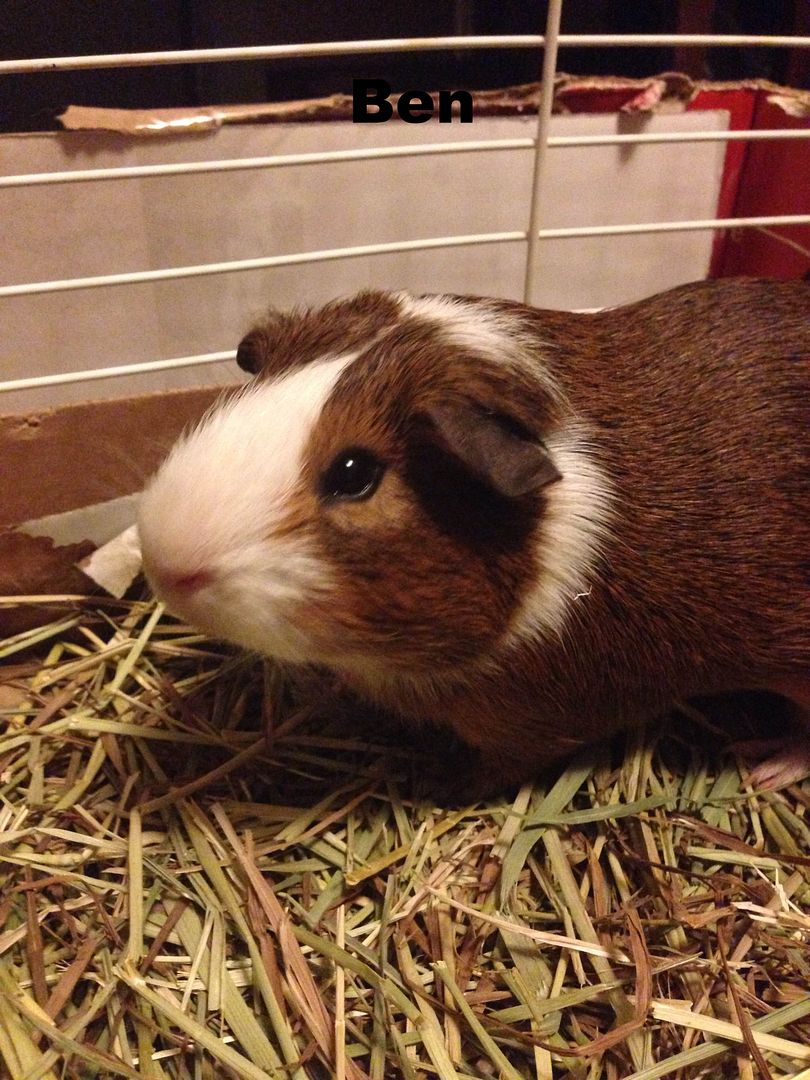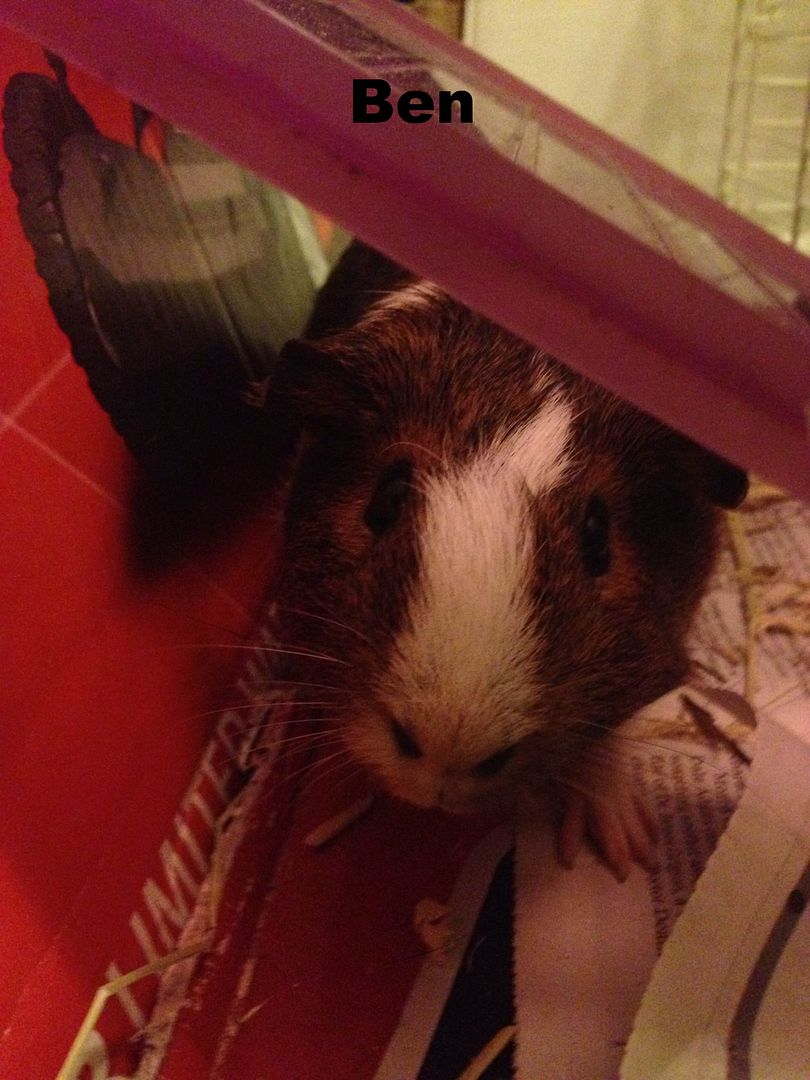 Jerry