Available Animals
These rats are all in the custody of MRR and reside in foster homes throughout New England and New York in the USA (We do not have a physical shelter). We do not ship rats or set up trains to get rats to you. You must live within the New England, New York area and be able to travel to meet the animal's foster family. (Our foster families' ability to travel vary and we can sometimes get rats closer to you so please don't let that dissuade you.) The state where the animal is being fostered is indicated below. We will work together to make your family happen!
***Please keep in mind that this page may not load correctly on mobile phones.  It is best viewed on a computer***
For more information on each animal or if you have questions in general, please contact us.
 WE DO NOT PROCESS NEW APPLICATIONS ON HOLIDAYS OR WEEKENDS
***~*~***
***ADOPTION APPLICATION & FEES***
PLEASE NOTE THAT WE HAVE SEVERAL OTHER RATS IN CUSTODY WAITING TO GO ON OUR WEBSITE! DO NOT LET THAT STOP YOU FROM APPLYING AS YOU DO NOT NEED TO NAME SPECIFIC RATS IN ORDER TO GET THE PROCESS GOING!
Rats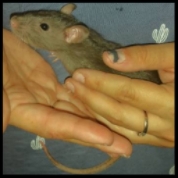 Posted: 07/15/18
Updated: 08/05/18
Fostered in: NY
Intact Females